Electrostatic Panel Cleaning
The most versatile and Cost-effective Panel Cleaner
Cleanliness plays a significant role in PCB manufacturing success. Due to the continuing miniaturization of circuit features, it is now essential that dust, dirt, and human touch be eliminated from the process.
Matrix is introducing the latest Panel Cleaning device for the removal of loose surface debris using "NO-Touch" Electrostatic Neutralizers and High Pressure Air Knives… including options for vacuum particle removal.
Supply Partner: ElectroStatics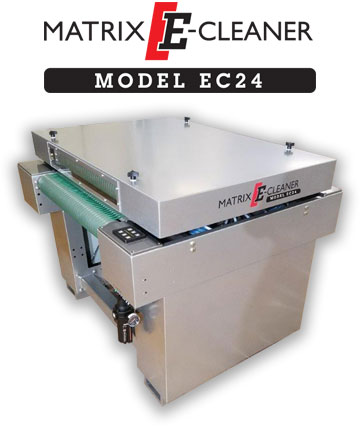 Features
No consumables
Robust design to last > 15-20 years
Electrostatic Touchless Cleaning
Consistent cleaning on every panel
Panel Thickness: 0.001″ to 0.500″
Minimal Maintenance
Self Installation
Options for particle removal
Applications
Copper Layers and Panels before Dry Film
Dry Film before Exposure or Direct Imaging
Panels before and after Solder Mask
Thin Films: PTFE, Foils, Pyralux, Flex
Before AOI
Prepreg before Packaging or Layup
Copper Panels before Packaging or Layup
Panels after Drilling/Deburring (removal of loose debris only)
Finished Printed Circuit Boards before packaging
Specifications
Cleaning Components
8 Banks of Air Jets (4 top, 4 bottom)
4 Static Neutralizer Bars
4 Vacuum Dust Collection Hoods
Conveyor Speed
1-100 FPM
Dimensions
Operating Length: 42.5″, Width: 49.5″
Cleaning Width: 25.5″
Conveyor Height: 34 – 41″
Power
120V, 60Hz
Air
9.3 CFM @ 40psi
Particle Removal
10-40 microns, depending on surface material
Vacuum Requirement
1300 CFM @ 6″ W.G.
Resources