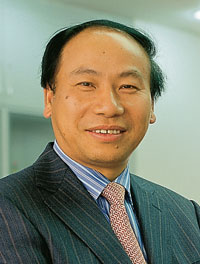 Message from the Managing Director, Jinzhou Precision Technology Corp.
We are delighted to be working with Perfect Point and have been supplying Jinzhou Precision Carbide Tools to many wonderful customers in the United States and Canada for over 10 years. This year we are pleased to announce that we are now qualified at many of the Tier 1 PCB fabricators in North America.
Jinzhou strives to produce premium quality products at the lowest cost. Our Company acquires only the highest quality tungsten carbide rods that are engineered specially for making PCB tools. Equipped with state-of-the-art CNC grinding machines from Germany and Switzerland and with strong in-house design and engineering capabilities, Jinzhou has been able to produce a wide
spectrum of carbide drills and routers to meet the needs of all challenging PCB drilling and routing applications. We launched our USF and USE single-flute tools with great success, and we welcome you to evaluate them.
We are certain, with the partnership of Perfect Point, that we can help reduce costs and increase your yields.
Sincerely,
Huang Wei
Managing Director, Jinzhou Precision Technology Corp.